About 3 years ago when I started my Linux adventure with ubuntu desktop server, one of the challenges I initially had was finding an easy way to convert videos to formats I could play on my mobile phone.  I remembered having to search through the web and the only option available then was FFmpeg which (don't get me wrong) is a very power tool for converting from one video file format to another, but it was commandline and not something a newbie like me (coming fresh from windows) would want to try out. Fast forward to 2010 and the landscape has changed. They  are now dozens of tools which provide a nice GUI frontend to FFmpeg and hence a very easy way to convert videos on Linux.
My previous favourite was winff. It is a nice frontend to ffmpeg and is capable of some pretty neat stuff. However there is a new* kid on the block which I found to be the coolest Media Converter on Linux in terms of easy of use and number of cool features it packs.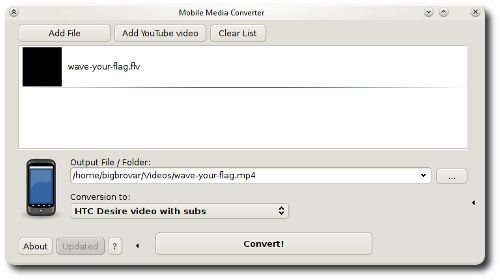 Mobile Media Converter
(The name is self explanatory I guess)
is a free video and audio converter for converting between popular desktop media formats like MP3, Windows Media Audio (wma), Ogg Vorbis Audio (ogg), Wave Audio (wav), MPEG video, AVI, Windows Media Video (wmv), Flash Video (flv), QuickTime Video (mov) and commonly used mobile devices/phones formats like AMR audio (amr) and 3GPvideo. iPod/iPhone and PSP compatible MP4 video are supported. Moreover, you can remove and add new formats  or devices through the internet
Features
Some of the really cool features packed into MMC include
Integrated YoutTube downloader for on the fly downloading of files from youtube and converting to preferred formats
Trim and Crop Support It allows the user to trip audio clips or crop video clips taking out unwanted parts (excellent for rings tones and stuff)
Subtitles Support Allow subtitles to be encoded onto the video for watching even on devices that does not supports them. Just drag and drop your video files and their subtitles on Mobile Media Converter
My Experience
Ease of Use
The first impression I got from using MMC is the ease of use. Even though it does comes with some very powerful features it manages to (brilliantly) expose these features allowing the users to easily make use of them. A good example is how the Video Trim feature is implemented  It uses two sliders (top and bottom) the top slider is used to select where to start the trim and the bottom slider for where to stop the trim. I found this to be very intuitive and easy to use. The Crop feature is just as dumb proof. There are two vertical sliders (left and right) and two Horizontal sliders (Top and Bottom) Adjusting the sliders can be used to crop out unwanted section of the screen
Simple Sleek and Logical UI
One of the things that struck me about MMC was just how simple sleek and logical the UI was. It is not cluttered by menus and every feature is implemented in a way that makes them easy to discover and logical to use It supports dragging and dropping files to convert. To edit a file all you have to do is right click and edit  It also makes use of very unobtrusive animation which provide smooth transitions between tasks. Overall it manages to unlock some of the most powerful features of FFmpeg and mencoder (Both commandline utilities) and exposes them to the user in a very simple way.
Features and Stability
Ability to embed subtitles to files, download files from youtube and encode them on the fly are just some of the neat features packed into MMC yet it manages to performs all the function without crashing or hogging my CPU. It also supports quite a large number of preset and allows for additional preset to be downloaded from the web providing a UI for the latter
Usage and Result
I have to admit I did not do a thorough test of MMC. But couple of Videos I tried converting all seems to work fine without any issues. The encoding went fast. The output was pretty decent. I have unable to test out some of the advanced features because I have not had any need for them. In all MMC is pretty much a frontend to FFmpeg which is a pretty solid tried and tested (knock on wood) commandline tool for doing that kind of stuff.
Installation
MMC is cross platform hence they are packages for Linux, Windows and Mac OS X If you are running Ubuntu Then you can easily download a .deb package and double click to install. The download instruction can be found
So I guess you can call this my little review for the Mobile Media Converter. I hope someone finds it useful.