For as long as I can remember my number one music player on Linux (or in fact anywhere) has been amarok. Although, I took a little break from it during its shaky transition from 1.4 to 2.x. I came back when things got stable enough and I have not looked back ever since. Well, until recently when rave of a certain fork of Amarok 1.4 called Clementine started to proof too much to ignore. Couple of times I previously tried Clementine I went back to amarok like 5 minutes later. I found it (then) very unstable, and lacked many of amarok features like lyrics fetching etc.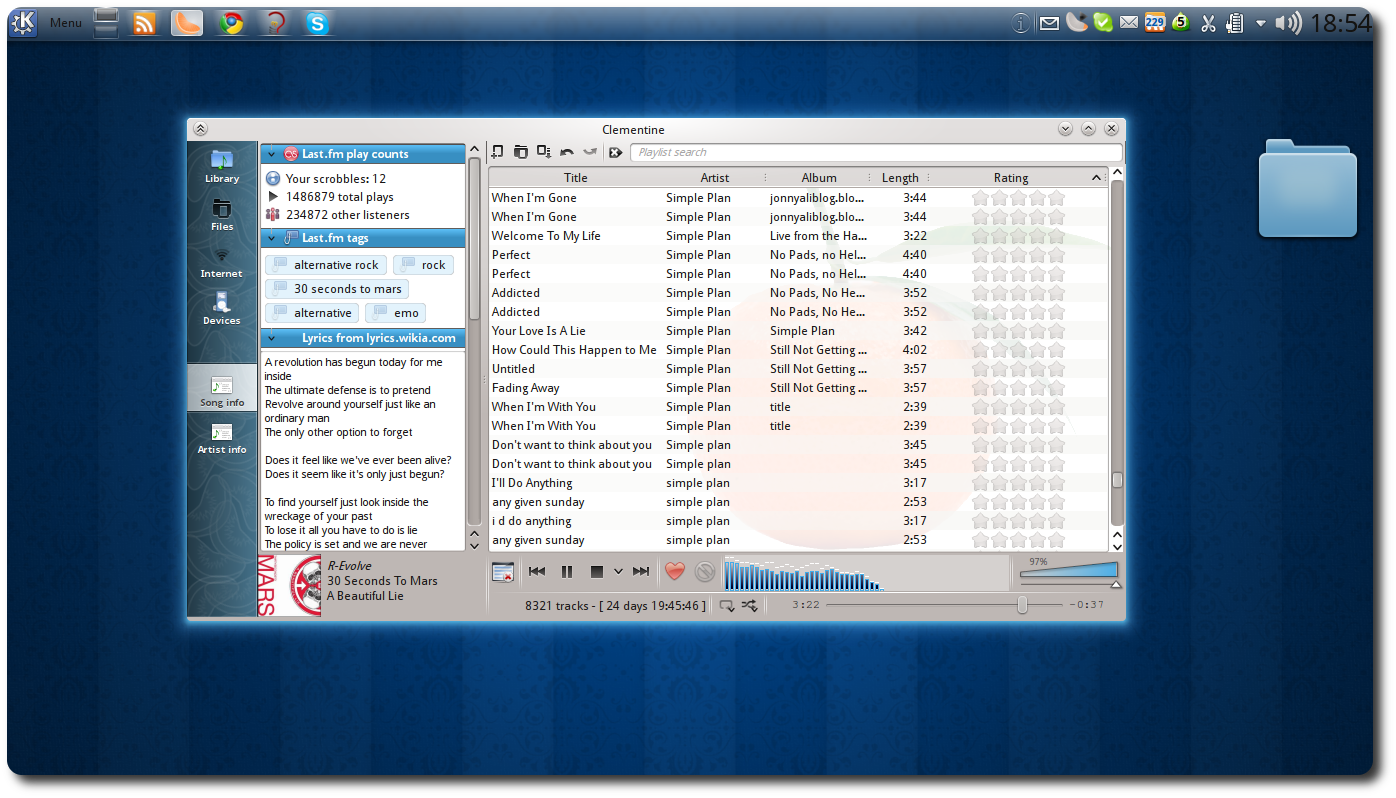 Recently though I have been given Clementine and amarok a fare share of play on my desktop (even though the later is still the star player (pun intended). However it seems all that might change. I was  reading a blog post about the monochomization of the notification area icon of clementine in the latest development build, so I decided to give it a go to see how that would fit in with kde 4.5 systemtray icon which are also monochrome. I did not notice any different in the systemtray icon ( which was still the same ole draining orange icon. sigh) But I got an unexpected surprise inform  some new features. Here are some of the new features and improvements I noticed while using the development branch of Clementine.
Lyrics Support ..
…which by default uses lyric.wikia.com as backend (very configuration in fact from the  settings there are tons of lyrics backends to choose from)
Better Integration with lastfm (yay!)
Beside basic integrations like scrobbling, and loving tracks. It add cool features like displaying cool stats about the track you are listening to like how many times you have scrobbled that particular song to lastfm and how many times the song has been scrobbled as a whole, and how many others are listening to same track.
The Artist info tab (Part of the redesigned sidebar) Displays Artist Pictures, Tags,  Similar artist and Biography which uses wikipedia as default (although lastfm, aol, myspace etc are also supported)
Though I am still discovering the latest Clementine which in turn is still under heavy development, I can not help but feel this is what Amarok 2x should have been design wise. I really feel Amarok could do without many of the clutter and buttons, even then its still one of the best Music players on Linux. I would not advise you give it a go if a stable music player is what you need because the current stable release is quite good. However if you (like me) don't mind living on the edge then head over here on how you can get the latest development version
K|X|Ubuntu user can simply add the Clementine development PPA
sudo add-apt-repository ppa:me-davidsansome/clementine-dev
sudo apt-get update && sudo apt-get install clementine
From what I have seen so far, the next stable release of Clementine is making strong strides to becoming the Most Valuable Player on my Desktop. The Tight Integration with Lastfm and Kiss design wins it for me.
N.B
For those who have not heard about  Clementine, it  is a multiplatform music player, inspired by Amarok 1.4, focusing on a fast and easy-to-use interface for searching and playing your music. It has packages for Linux, Windows and Mac. (On its way to world domination)
Features
Search and play your local music library.
Listen to internet radio from Last.fm, SomaFM and Magnatune.
Tabbed playlists, import and export M3U, XSPF, PLS and ASX.
Visualisations from projectM.
Transcode music into MP3, Ogg Vorbis, Ogg Speex, FLAC or AAC.
Edit tags on MP3 and OGG files, organise your music.
Download missing album cover art from Last.fm.
Cross-platform – works on Windows, Mac OS X and Linux.
Native desktop notifications on Linux (libnotify) and Mac OS X (Growl).
Remote control using a Wii Remote, MPRIS or the command-line.
Copy music to your iPod, iPhone, MTP or mass-storage USB player.
Queue manager.