Walking is one of my favourite hobbies .   I always love to take an evening walk to no where in particular, just follow the road and see where it leads. It helps me think and clears my head of clutters.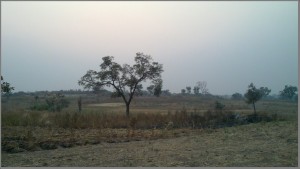 The first thing I fell in love with since  moving to Abuja is the abundant (unspoilt) natural environments (having loved little since then.)  Even from my sit in the plane my first view of Abuja  was a wowed moment for me. The grassland dotted with trees, the little (sometimes large) hills and rocks which surrounds the city.
This is completely different from what I am used to in Lagos, which unlike Abuja lies in the Rain forest region of Nigeria, characterized by Thick Rain forests, many of which are being lost to Urban expansion everyday. (A story for another day.)   Abuja lies in the Guinea Savannah belt (Where the desert meets the forest)

I made a promise to myself that one day I would take a walk into the wood lands and get lost.  So last week I needed to clear my head after a tough week of work (and other things) I decided to fullfill that promise. It was the most refreshing experience ever.
The best things in life are free. In a world obsessed with concrete and anything with an electronic chip, it was such a refreshing change to be alongside nature.  Escaping from all traffic and human structures, all I could feel was the wild breeze blow across my face. I had time to really take in every little detail such as watching the trees, to feel so tiny and insignificant among rolls and rolls of grass land, dotted with trees which stretch as far as the naked eye could see. It felt so good, that I came back to my apartment with a clear, calm head and mind. I was ready to face another day in this concrete and electronic chip obsessed world
This content is published under the Attribution-Noncommercial-Share Alike 3.0 Unported license.